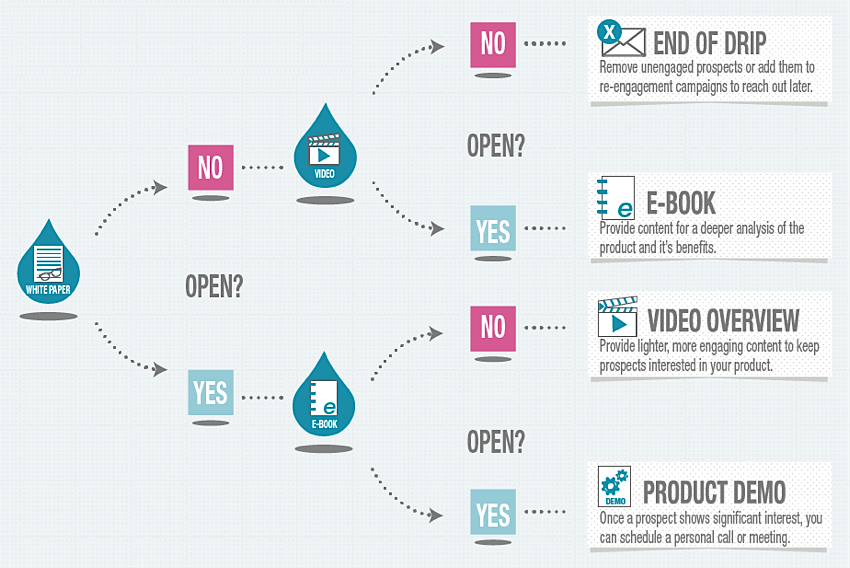 The Definitive Drip Marketing Guide
Email newsletters are the perfect way to keep your subscribers in contact with the latest developments in your business.
But there's a major drawback …
New subscribers only see the latest email announcements and never the older emails you've sent out. Plus, it's hard to keep track of new subscribers, current subscribers and old subscriber's activity.
This is where drip campaigns come in.
Drip campaigns are one of the easiest ways to make more sales to your business.
To put it simply, drip campaigns are a series of emails that are set to automatically send at set intervals over a period of time. You're going to "drip" your message to your audience just a little bit at a time.
Drip campaigns are also referred to as automated email promotions, life-cycle communications, autoresponders and marketing optimization. An effective marketing strategy that sends prewritten messages aka "drips" to prospects and customers over a certain period of time.
Email Marketing platforms such as Mailchimp make it easy to send out a series of automated emails. Here is an example of a simple drip campaign:
Email 1: Thanks for signing up. Here is a link to some free stuff
Email 2: Struggling with x,y or z? Call us, and we can help!
Email 3: Here is a great story from a client!
Drip Marketing campaigns with automated emails send out messages after certain "trigger" actions such as first-time subscribers. You don't want to keep track of who signed up and when they signed up. Then attempt to create different lists to send all those emails yourself. That is A LOT of unnecessary work that can be automated by platforms like mailchimp.
There are two things that separate drip campaigns from other varieties of  database marketing:
Automated messages are made available to certain subscribers based on their status and behavior, such as first-time subscribers or the birthday of current subscribers. Automated emails can be sent when these actions are "triggered". Email marketing is the modus operandi of most drip campaigns but other forms of platforms may also be used.
Research shows that managing a drip campaign on a segmented list can generate 18 times more sales for businesses and leads that are followed over time make 47 percent larger purchases.
But the real magic of drip sequences is that they're helping you build trust with your audience. Instead of blowing up everyone with the same campaign, you can put your subscribers into different funnels.
You can run campaigns to reward your best customers. Educate your prospects. Welcome new customers or promote certain pieces of content. It's more relevant, so it feels more personal.
How to Nurture Leads?
Lead nurturing is one of the most common types of strategies most companies use to cultivate relationships with their members. A lead nurturing program helps companies and their members through every phase of the consumer experience.
Marketo's Complete Guide to Lead Nurturing
Marketo refers to lead leadership as being "personalized, responsive and able to listen and adapt to consumer behavior in real time." Focusing on responding to the needs and wishes of their clients and sharing the information and insights they need.
It's a way to hold your customers hand and take them on a trip until they're ready to buy.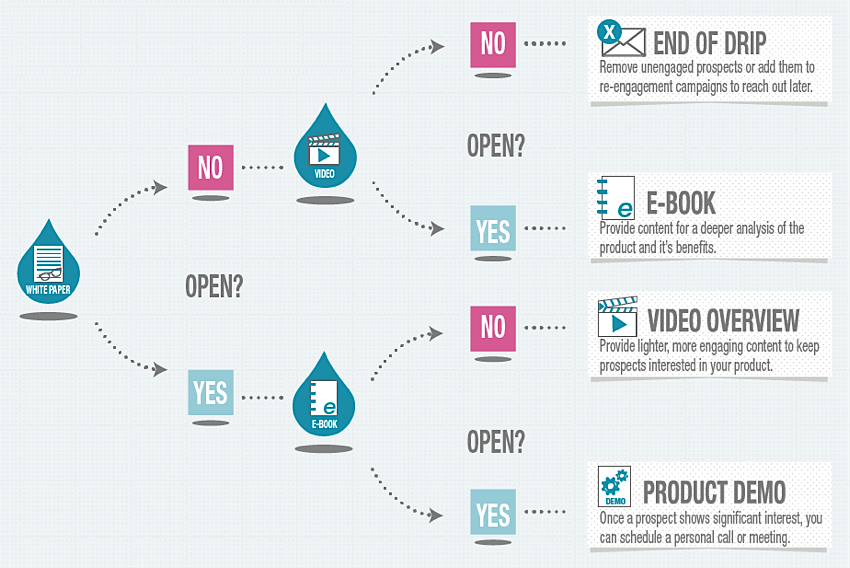 Source: Pardot
Over time, as you provide valuable content to your list, you will be viewed as their "go – to" source. And when buying a product like yours becomes a must, they'd notice you first — even if time had passed. And the fact is, most of the leads are likely to fall into this category.
According to Marketo, 50% of the leads are not ready to buy right away. So, If you've sent out marketing emails to advertise your brand, you're going to lose money because half of your customers are gone.
Lead nurturing often reduces the price per customer: it produces 50 times more sales-ready leads at 33 percent lower costs. Instead of exhausting your marketing budget and attempting to get more leads across the edge of the funnel, you can improve your revenue without investing more money. Best lead nurturing strategies contribute to an emotional journey from "knowledge" to "decision." Marketo's Complete Guide to Lead Nurturing notes that there are four aspects of influencing lead nurturing.
Marketo's Four Aspects of Influencing Lead Nurturing
Trustworthiness. One of the greatest benefits of lead nurturing programs is the ability to build confidence with a wide range of candidates over a short period of time. Trust is created in a number of ways, but the two main "triggers" for trust are personalized content and information which shows you are a leader in your industry.
Relevance Relevance ensures that you should submit information that is unique to what the customers need, when they want it. When you miss the mark and send out the wrong type of content, or send out an email that doesn't suit where they're on their consumer path, otherwise your prospects may think that you don't really "respect" them And if they think you don't get them, they're not going to buy them. You will add significance to your lead nurturing chain by segmenting and pacing your communications to the right people at the right moment.
Multi-channel strategy. If you have a lead on your email list, they're more likely to follow you on your other social media channels. Every time a lead interacts with your company, they expect to have a certain type of "experience." If that experience feels like it's disconnected across different channels, it might reduce the level of trust they have in your company.
Measurability.

Like 

any 

marketing 

campaign, 

you 

need 

to 

have 

clearly 

defined 

metrics 

so 

you 

know 

exactly 

what 

' 

performance 

' 

or 

' 

failure 

' 

is.

It's important to track open rates, click-through rates, and increase sales conversion rates for all the different lead categories so that you can see exactly how well the strategies are doing.
As marketing funnels grow and consumers become more individualistic in purchases and attention span shrinks, the need for successful nurturing strategies continue to escalate.
If your business isn't leading the way, profitability is likely to be lost then income and growth opportunities wasted.
Use drip campaigns in email marketing to grow your subscribers and increase revenue to your business.  Our marketing experts have worked with various of businesses – large and small – to develop their customer base and number of subscribers. Reach out to Faceless Technologies for a quote or FREE consultation. Call 1-800-357-1299 or Shoot us a Message Here.