Faceless Marketing specializes in brand development, while focusing on your business's BDI. A strong brand shines brightest in the crowded marketplace, which can be hard to accomplish in today's flooded markets. Your brand identity, marketing materials, and web presence should act as a beacon which in turn will attract consumers, build trust, and showcase your company's value.
The perception of your brand will ultimately determine the success of your company, and your brand isn't what you say it is, though it is what your market and demographic says it is. Every exchange is an opportunity to shape this perception, make a connection, build trust, and strengthen customer loyalty for your brand. Is your brand identity outshining the competition, or is the competition outshining you?
Brand development is maintaining the consistency in terms of quality, value, and trust that consumer finds in the company.
Branding has the following 4 phases:
Brand Strategy – How to take your brand into the market? Making brand communications more effective, and long-lasting.
Brand Identity – It communicates the company's vision and mission via the voice or perception of your Brand.
Graphic Design – Differentiates from the competitor and shape consumers' perception positively.
Brand Management – Just like a stock portfolio, managing the investment done by the company and the brand.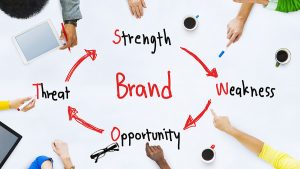 Our Approach
Faceless Marketing will work closely with you to develop a brand identity that positions your company within the marketplace and highlights the qualities that resonate with your target audience, all while developing your USP. We have helped shape the brands of companies both large and small. A free consultation is all it takes to get the ball rolling.
Is your brand front and center? Or are you another face in the crowd?  Faceless Marketing is ready to help you develop your brand.  Reach out to Faceless Marketing for a FREE quote. Call 1-800-357-1299 or Shoot us a Message Here.