DO YOU KNOW HOW THE PUBLIC VIEWS YOUR BRAND?
Has anything occurred lately that could tarnish the message you want your company to send?
Do you know that 83% of online buyers will read reviews prior to making a purchase? How do your reviews look? Have you taken the time to review and respond to any complaints? How did your company handle them?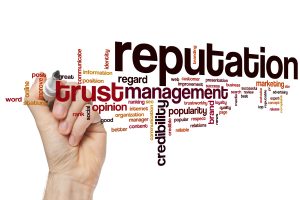 Reputation Management by Faceless
Reputation Management was simply a part of our Public Relations department until a few years back when the amount of individuals using online visibility to make decisions sky rocketed. Everyone nowadays is searching daily on their smartphone or tablet or laptop for something. What will they find if they are searching your brand?
Practicing a proactive reputation management of your brand will ensure you are staying on top of any negative issues that could arise.
Don't wait until it is too late. For a small monthly fee, we will maintain a report on the chatter about your brand, industry, competitors and more. Maybe you need to worry about what employees are saying where, and how it effects the company brand? Maybe a catastrophe has occurred and you need to make sure the damage is kept to a minimum. Businesses – do you know how many bad reviews it takes for you to lose a potential client? Do you know how many are out there? Who is talking about your products or services and/or brand?
Get In Touch Today!
Contact us to discuss what our reputation management plans can do for your brand. How they can help your online visibility while reaching some of the goals you set forth. Obtain a conversation between current customers or maybe search for new ones. Whatever your goals are we can create the concepts behind it to succeed.
In dire need of some damage control? Faceless Marketing fix anything.  Reach out to Faceless Marketing for some consultation & education. You never know what you may learn next. Call 1-800-357-1299 or Shoot us a Message Here.