White Hat Vs Black Hat SEO: What's The Difference?
In short, SEO is a race to the top result on page 1 of Google. Search Engine Optimization (SEO) is the process of improving the visibility of a website or web page in search engines. There are different routes that can be taken to get to the top of search results. Like any industry, there are a few "dirty tricks" that some marketers try to use to get websites to rank high. This is known as "Black Hat" SEO, which attempts to manipulate search engine results. In contrast, "White Hat" SEO follows the proper guidelines that search engines require.
White Hat Versus Black Hat SEO
When creating an SEO campaign, marketers can choose between one of two main routes: white hat and black hat SEO. Good versus evil. Hero versus Villain. White Hat SEO utilizes tactics that follow Google's rules, while Black Hat SEO tactics are like iitsevil twin- it takes on a more aggressive approach and breaks the rules. It's not always easy to discern between White Hat SEO and Black Hat SEO. Sometimes what appears to be an ingenious trick turns out to be something that bends Google's rules.
Black Hat SEO Goes Against Search Engine Guidelines
In the wild west, Black Hat is the villain who breaks the law. Getting caught using Black Hat SEO techniques end in penalties for your website. As a business owner, do you know the difference between black and white? Here are just a few strategies that are used in Black Hat SEO:
Keyword Stuffing: This is a common practice that involves filling content with irrelevant keywords in order to manipulate where the page ranks in results. Google explains that "keyword stuffing" includes:
Lists of phone numbers without any value
Blocks of text listing cities your webpage is trying to rank for
Repeating the same words or phrases in an unnatural way. I.e. "Our custom websites are made by professionals. If you're thinking of buying a website, please contact our web specialists at info@facelesstechnologies.com"
Perhaps you've heard the joke : ""an SEO copywriter walks into a bar, grill, pub, public house, Irish, bartender, drinks, beer, wine, liquor…". This is a perfect example of keyword stuffing- it sounds unnatural.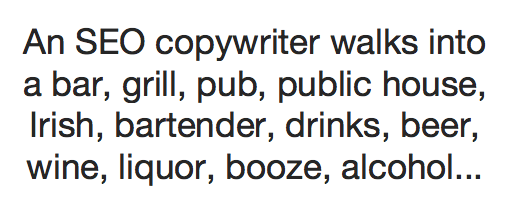 Doorway pages: This trick is when marketers set up fake pages loaded with keywords. This will make it easier for search engines to find. If a visitor clicks the link it will redirect them to a separate page.
Cloaking: Cloaking involves presenting visitors and search engines with completely different content. SEO specialists use this trick in order to make content rank for a variety of terms irrelevant to their content. Spam websites typically use this trick to avoid a search engine bot.
Poor Quality Content – Poor quality content has no value to the viewer. It's content that solely exists to boost website rankings. It's typically duplicate content from another website – taken word for word. Before Google rolled out the Panda update, it failed to recognize duplicate content.
Paid Links– Google has a strict ban on paying for links. Beware of paying other sites that offer to link to your content. The buyer and seller are both penalized once Google discovers the paid link.
Link Farms – Link farms are a collection of websites that are created for the purpose of link building.
White Hat SEO Follows Search Engine Guidelines
White Hat SEO is proof that nice guys don't finish last. Unlike Black Hat SEO, White Hat SEO focuses on quality content and organic link building. Google rewards websites that use White Hat SEO strategies. Here are a few common White Hat methods:
Effective, Relevant Keywords – Your keywords are what helps your customers find your website. Long-tail keywords are more effective than single words. Just don't keyword stuff and you're golden.
Quality content– quality content is valuable content for your target audience, shareworthy, good keywords, not duplicate content, and no spelling and grammar errors.
Meta Description – A website's meta description is the first few sentences that will appear in search results under your website's name. They should include relevant keywords and do NOT overstuff them.

Avoid Black Hat Tactics
The penalties for using Black Hat SEO are harsh- Google will drop your website in search results, or completely remove it. Now, Google is good at spotting deceptive Black hat tricks.  Avoid scammy companies that promise to put you they will "get on the first page of Google overnight"
Don't Disappear Online!
We know that the race for the highest ranking can be overwhelming. It's tempting to use Black Hat SEO tricks to improve rank. However, it's not worth losing your company website and credibility. Remember, it's a marathon, not a sprint. You'll get to the top eventually, it just takes a little more time. Here is what you can do instead – find a good marketing company that applies White Hat SEO tips (*hint hint* Faceless Technologies). Grow your online presence and stay strong in searches.
Don't get caught red-handed. Boost your website the right way with SEO campaigns that produce results.  Our web specialists have worked with many businesses – big and small to improve their website ranking and reach. Reach out to Faceless Marketing for a quote or FREE consultation. Call 1-800-357-1299 or Shoot us a Message Here.