Should I Be Keeping Up with My Google Business Page?
In 2018, we cannot stress the importance of using Google for your business. According to Alexa's top 500 websites on the web, Google is ranked #1 on a global level. Google is the #1 most visited website in the United States and Gmail is the most popular email provider in the world.  Having your business appear on Google is enough to boost your website's SEO, and overall search and visibility. Organic search is the primary source of website traffic. Google owns about 75% of the overall search market.
This year, Google has gone through a few changes in its platform for business owners. The search engine giant is already planning on getting rid of Google Plus by August 2019. Google has also made massive changes with Google My Business for business owners.
Google is shutting down Google Plus
Last month, Google had endured a massive "software glitch" between 2015 and 2018. This privacy bug allowed third-party developers to access Google Plus user's profile data. The profile data that was exposed included full names, email addresses, birth dates, gender, profile photos, places lived occupation and relationship status. Google made the decision to resolve the issue by shutting down the consumer aspect of Google Plus. Google will still maintain a portion of Google Plus for enterprise clients who want an internal network to engage in. The Google Plus application will be gone by August of next year.
For those who've maintained Google Plus profiles for their business, this is unfortunate news. Don't worry about losing the engagement and audience you built. Another one of Google's platform changes is that they are revamping Google My Business Pages.
Google Business Pages Will Play an Even Bigger Role for Businesses
In addition to Google dropping Google Plus, Google My Business has been revamped with a new dashboard and features. These new updates are already live on Google My Business. When you log into the new dashboard, you will see that Google has made changes to how you can fill out your Google Business listing, managing customer reviews, and brand-new profile where you can post status updates. The new dashboard is much easier to navigate, and you can click into a listing and edit it within the same window. Another improvement is that there will no longer be constraints on the number of Google business listings that you can create.
Optimizing Your Google My Business Pages
One of the goals of SEO is visibility and appearing in searches. When it comes to your Google My Business Page, is your profile fully optimized and your company information accurate? When it comes to filling out your Google My Business profile, there is a set of criteria that you must follow in order to get the best visibility. Google My Business is an essential tool for businesses to use. Getting on Google My Business increases your chances of showing up on Google's local pack, local finder, Google maps, and organic rankings as well. How well your Google My Business Page is will determine how you rank in local search results.
What you need to optimize your Google My Business Page:
If you have not claimed your Google My Business Page, this would be the first step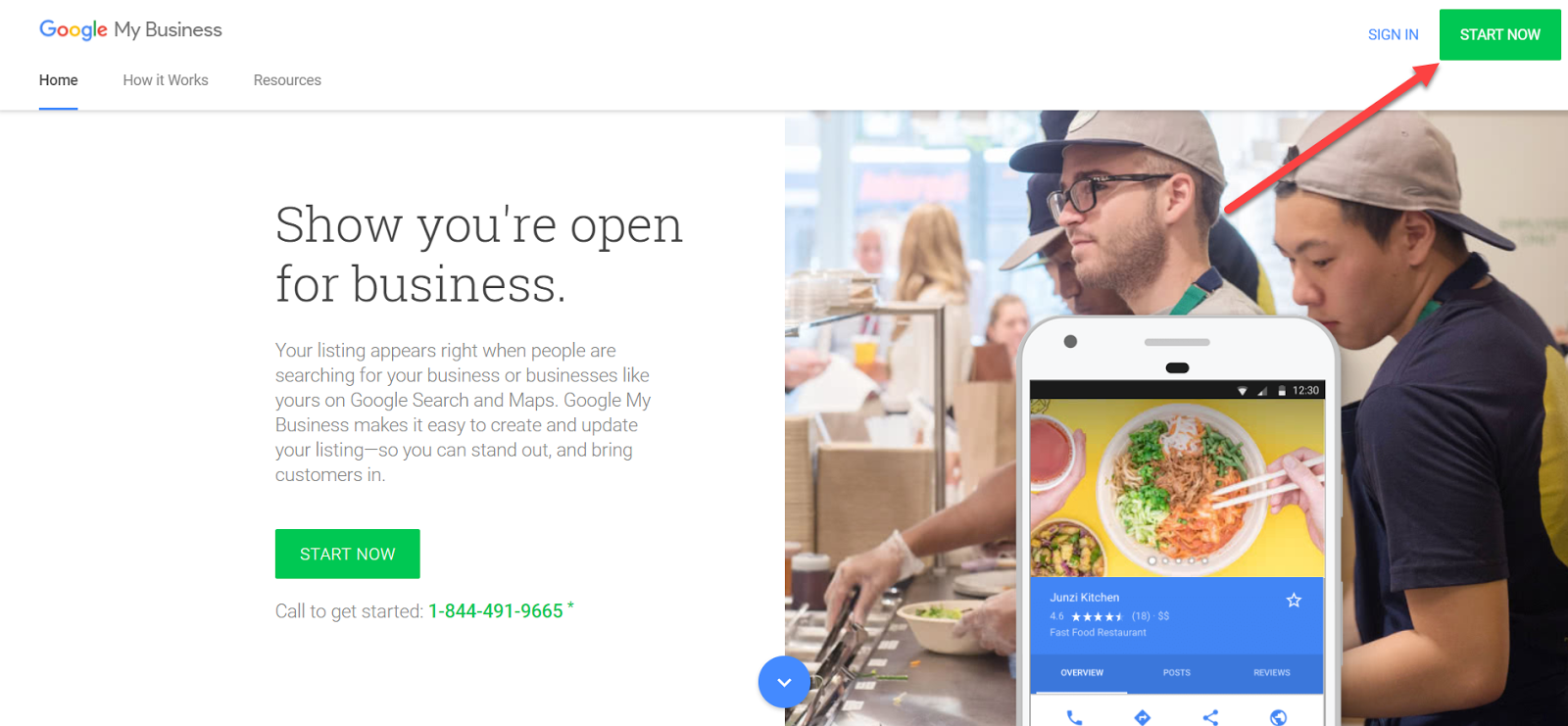 filled out all your company information- name, address, phone number, business hours and types of payments accepted
Not only should your company profile be filled out, but all the information should also be accurate and up-to-date
Adding business images and videos will optimize your profile further
Look out for "suggested edits" – user-generated changes that can be made live without you being notified.
Look out for "Know this place? Answer some quick questions" – similar to "suggested edits". This is where users are prompted to answer questions about your business. For instance, questions could be "Does this place serve beer"? or "Does this place have outdoor seating?"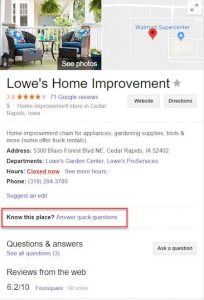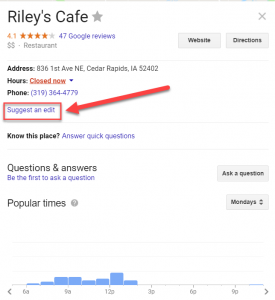 Google My Business Posts are going to replace Google Plus. These are essential mini-ads or social media posts that show up in the feed on your profile. The posts are set up with different categories ranging from if you have something to sell, an event, product, or holiday message
Set up messaging – did you know that your customers or potential customers can send you messages to your Google Business Page? This is a great way to connect with and engage with your customers.
Question and Answers- there is a section of the Google business page where users can ask a question to the business. Make sure that no questions go unanswered.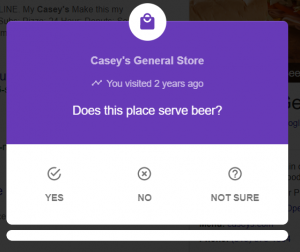 Google Business Online reviews
Google My Business Online Reviews
Your Google My Business online reviews are one of the most critical parts of optimizing your page. Google encourages business owners to request reviews from their customers. This is unlike Yelp, which discourages business-owners from requesting reviews. Online reviews can make or break your business and help you stand out in an ocean of search results. Online reviews impact your search result ranking, customer trust, AND click-through rates.
97% of consumers read online reviews for local businesses in 2017, with 12% looking for a local business online every day. 85% of consumers trust online reviews as much as personal recommendations. (Source: BrightLocal)
When you receive reviews for your business, it's important to promptly reply to them. This is a factor in your Google ranking and it improves your customer service and online engagement.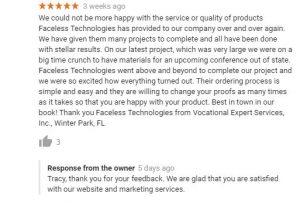 Don't Hesitate to Use Google!
When you properly utilize Google My Business, there is a lot that you can get out of it. In 2018, every business NEEDS to be listed on Google. There is a lot of ground to cover when it comes to Google My Business and SEO. If you find yourself stuck while optimizing your profile, feel free to reach out to any of our Web and SEO specialists.
At Faceless Marketing, our mission is to provide quality web development and SEO services to businesses, big and small. We are the marketing firm that you can depend on to give you the best results and greatest return on investment (ROI).  Reach out to Faceless Marketing for some consultation. Get a FREE quote on any of our services from printing to web design and SEO. Call 1-800-357-1299 or shoot us a Message Here.