The True Cost Of Free Website Builders
Free website builders such as Wix, Weebly, and Squarespace have become widely used platforms in the past few years. They offer ease of use, free templates, and drag-and-drop customization. Many of these website owners are surprised to find that the "free" websites they have created come with hidden costs.
"Nothing in life is free" according to the old adage about value and money, and it still rings true today. Free website builders lure in small business owners, entrepreneurs, and freelancers by the simple fact that it's free and easy to use. Despite the fact that these website builders advertise this, there are still hidden costs and fine print that come with creating that "free" website. After creating an account with any free website builder platform, you'll eventually stumble upon pricing plans and upgrades that you didn't even know existed. That is, until your website needs something that the free version doesn't offer.
The "Freemium" Business Model
Freemium is a fusion of the words "free" and "premium" and it is a pricing strategy in which a product or service is provided for free of charge, but charges for additional features, services, or goods (physical and virtual). The freemium business model is often used in industries such as mobile games, media, software and web services. The goal is to offer a "free" version to promote a "paid version". Free website builder platforms operate on this business model.
The Cost of Domains and Hosting
Every website has a domain and web host that hosts the website. A website domain name is the address of your website i.e. "www.google.com". A web host store pages on your website and enables your website to be available on all computers connected to the internet. Web hosting environments are hosting environments that "house" your domain. There are several companies that offer domain registration and web hosting services. Some of the more common ones are GoDaddy, BlueHost, and HostGator. Domain and hosting registration require annual fees to keep up with. When you receive a website address with a site like Wix, the free version will look something like this:  "alex3039.wixsite.com/website".
Find Out More About Domains, Hosting And Registering Your Website
Why Wix Isn't Free
When you view Wix's pricing plans, you'll be shocked to find out how much isn't included in the free version. One of the worst offenses is that the free version comes with Wix ads, which looks highly unprofessional for any business. There are two times of upgrades on Wix: Websites and Business/eCommerce. The "website" upgrades offer more bandwidth and storage. If your future site is large, it will not work on the free plan. The Business/eCommerce upgrade makes it possible for your website to accept bookings and payments. The most expensive plan is $500 a month! If you plan on creating an online business, you will not be able to do it for free on Wix.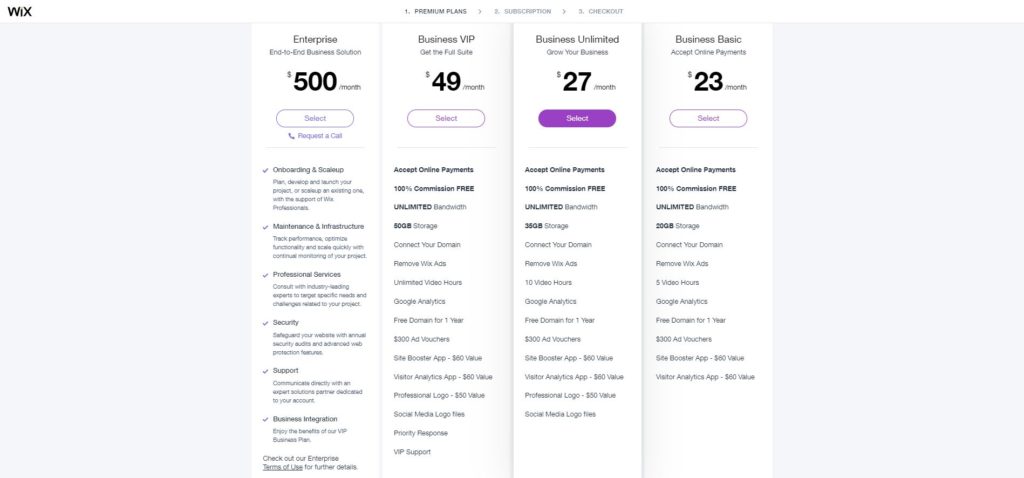 Learn More About Why Professionals Avoid Wix
Why Weebly Isn't Free
Weebly operates on a similar pricing model as Wix with plans in the "website" and "Online Store" categories. The "free" version of Weebly is so stripped down, all you get Is free SSL security and 500 MB of storage, which is hardly anything. The worst part is, it comes with a domain with weebly branding.  There are no real eCommerce, marketing or support capabilities until you upgrade to a Business or Business Plus account, which is $25/$38 a month.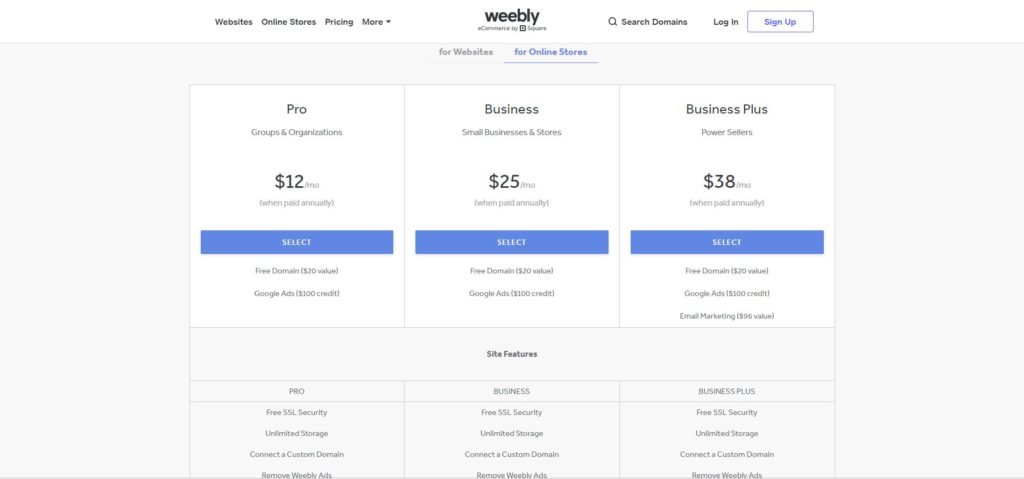 Why You Should NEVER Pay For 10 Years' Worth Of Web Hosting
Why Squarespace Isn't Free
Squarespace is a little new to the game, and they only offer four pricing plans. There is a "free" version of Squarespace, but it's a 14-day trial version. After that, you'll be roped into one of the payment plans. Their cheapest plan is $16 a month and it comes with a limited amount of features. You won't get any of the eCommerce website features unless you pay the $46 Advanced Commerce Plan. If you are an online business you will need a website with full eCommerce capabilities.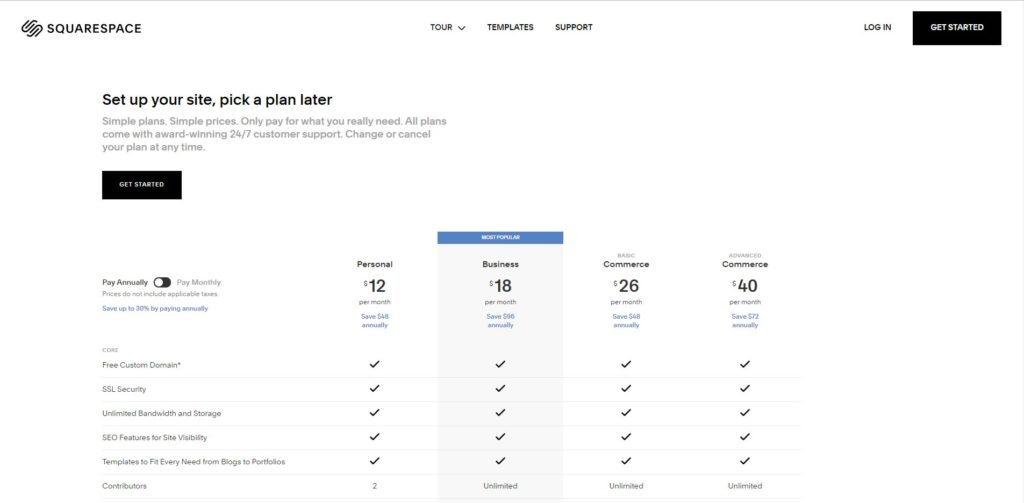 In order to have a fully functioning, capable website, it will cost money to run. Even the "cheaper" pricing plans at Wix, Weebly and Squarespace will cost you about as much as a professionally built website. Unless you have upgraded to the most expensive plan, you are not going to have much control over your website and its capabilities. At that point, you should look into hiring a professional firm, who will be a lot more upfront about costs and willing to offer support and assistance. Faceless Marketing doesn't do hidden fees.
Don't Get Tricked By Free Website Builders With Hidden Costs.
Stop using drag-and-drop website builders and get a professional company website.  Our web specialists have worked with many businesses – big and small to build their website and improve their SEO and visibility. Reach out to Faceless Marketing Firm for a quote or FREE consultation. Call 1-800-357-1299 or Shoot us a Message Here.