Google My Business 2023 Updates and Changes
For years, Google My Business has been the top tool for SEO and online search for small businesses. To put it bluntly, if you don't have a Google My Business listing in 2023, it's time to get started. For those who are unfamiliar with the platform, it is similar to managing a social media profile that is aimed specifically at local businesses to improve search rankings and allow customers to leave reviews. Google has recently revamped the platform, and as a business owner, it is beneficial for you to keep up with recent changes. Learn more about the Google My Business 2023 updates and changes.
Google My Business 2023 Updates And Changes
If you are looking for Google My Business, you won't find it anymore. The business tool was recently renamed Google Business Profile. Google is making a move toward positioning the Google Business Profile as a powerhouse to improve local businesses' online presence. Businesses are able to manage their online presence, reach potential customers, get discovered, and continue communication with new customers. In addition, new features have been added to ease the way users access their profiles.
Manage Your Google Business Profile Directly on Google
This exciting new update allows users to make edits from a more visible location – the front page of Google. Before, it was not as easy for users to access their Google Business Profile dashboard. What ended up happening was that users would actually Google "Google My Business" in the search bar to get the URL that leads to the dashboard. Now, the dashboard is front and center.
Another neat hack is that you can now access your Google Business Profile just by searching the name of your business on Google. However, you must be logged into the Gmail account that manages the Google Business Profile.

Click here to enlarge image
Features and Options At Your Fingertips
While you are in the new dashboard for your Google My Business Profile, you will be able to do the following:
View Google Insights and Analytics
Read the Latest Business Reviews and Ratings
Create Google Ads (quicker and much easier than before)
Create Google Posts and Promote Special Offers
Make edits and changes to your business listing (such as phone number, business description, business category, etc.)
The update has streamlined everything. For instance, it is even easier to view metrics, such as messages received, the number of searches and search queries, and the number of new online reviews.
Messaging on Desktop
The way you can send and receive messages in your Google Business Profile has changed. Messaging is available in the app, but you can also access messages through the desktop version. The Messaging tool is very efficient. It allows you to turn the chat on (or keep it turned off), enable read receipts, add FAQs, and even allows you to craft a customized welcome message. You can even turn on SMS alerts for your phone! Google has also created chat guidelines to help you elevate customer service.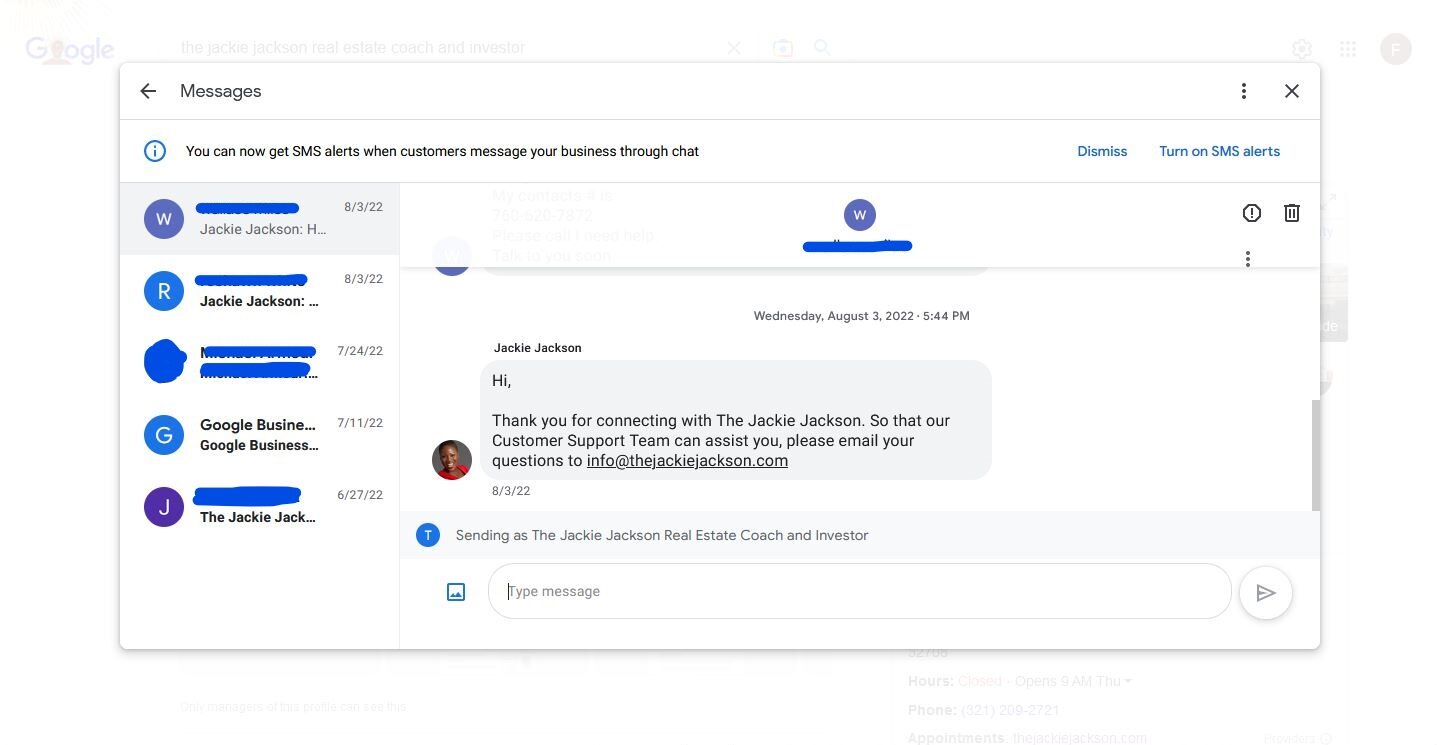 Click here to enlarge image

Click here to enlarge image
Google Maps Live View & Neighborhood Vibe
New map updates have rolled out including a Live View of the local area the user is in as well as Neighborhood Vibe.
Google's Neighborhood Vibe has made Google Maps more interactive and personal. Users can browse neighborhoods and see user-uploaded photos and videos of the area from various Google social media profiles.
Google users have access to a feed under the "Live View" tab on the Google Maps app. This is an interactive feed that displays the profiles of other users on Google as well as the Google Business Profiles of local businesses. Users will get to see your business name, hours of operation, user reviews, and how busy you are at the moment.
So, how will these two features be a game changer for digital marketing?
Businesses will need to stay on top of their GBP and keep it updated- more than ever before. As an owner, the last thing you'll want is a potential customer viewing the wrong business hours in the Map view. From a user perspective, we've all been there before and got discouraged when the local spot we wanted to visit was not open.
Additionally, you will need to be engaging on your social media profiles including Facebook and Instagram. That will increase the chances of users taking exciting photos and videos of your business and then sharing them online with friends.

Creating Compelling Google My Business Posts
Most people think of social media as mainly Facebook, Twitter, Instagram, etc. So, the social media "feed" aspect has also shifted to GBPs. Unfortunately, Google Business Profile is one of the most overlooked social media platforms. This platform can help to support your overall digital strategy when used effectively. It really deserves more attention than it currently receives.
In 2023, businesses need to take full advantage of the Posts feature of Google Business Profile, as it is essential to increase local rankings. There are several types of posts that GBP now lets you create:
Events (Share a grand opening, annual sale, or fundraiser)
Offers
Products
Welcome Offers
When it comes to creating posts, you will want to optimize them as much as possible. This includes putting location-specific content in posts to target your audience, adding compelling images, and leaning into "infotainment" – a good mix of "advertisement" and "entertainment".
Google Business Profile is the Face of Local SEO in 2023
How is your local SEO strategy likely to change? In 2023, Google Business Profile will be THE face of local SEO in 2023. If you have not already created a Google Business Profile, we hope that this post has inspired you to do so. Google Business Profile is playing a critical role in 2023 and you'll need to optimize your content accordingly.
Do you need help forming a local SEO strategy that considers all these updates? We would recommend working with one of our top SEO professionals.
Faceless Marketing Is A Top Multimedia Marketing Firm
At Faceless Marketing, we have helped countless businesses grow their brands – from planning to execution and optimization. As a marketing agency, we provide a full range of creative services, content creation, and data analytics.
As a top digital marketing firm, we stand by this mission. Reach out to Faceless Marketing for a quote or FREE consultation. Call 1-800-357-1299 or email info@faceless.marketing and check out our YouTube channel for more content.