Client Case Study: The Metaphysical Mysteries Podcast
Our clients requested to see some of our past work. The proof is in the pudding, or in our case, the numbers. For the past 25 years, Faceless Marketing has been putting out only the highest quality work. We believe that results need to be measurable. However, they also need to speak to your larger business objectives. Faceless Marketing works with clients to grow their business and deliver insightful strategies that make a lasting impact. View our latest marketing client case study: The Metaphysical Mysteries Podcast.
Faceless Marketing Client Case Study: The Metaphysical Mysteries Podcast
​In just a little over a year, we took this startup for a podcast and grew it into an international show with unique listeners, a regular episode release schedule, an online eCommerce shop, and a rooster of various guests. Podcast marketing can be tricky, especially if you are a new podcast that has to get launched. There are a lot of nuances and specific criteria to meet. Before we unpack more about podcast marketing, we should let you know about the brand.

Client: The Metaphysical Mysteries Podcast
The Metaphysical Mysteries Podcast is a top metaphysical and spiritual podcast and "your place for insight, tools, and the 411 to navigate the path of awakening and soul expression, and living your life more fulfilled in all areas. Learn and share in living more awake, aware, and conscious in your everyday life." Through this podcast, listeners gain the support and tools to make the changes to live a more fulfilled, authentic, soul-expressed, and prosperous life.
Podcast Demographics and Statistics
The Metaphysical Mysteries Podcast is under the Science, Spirituality, and Educational Categories. The podcast's audience are listeners who are interested in these topics and podcasts related to these topics. In just over a year, The Metaphysical Mysteries Podcast became one of the top played podcasts for its genre.
Top Countries for listeners (from 1-10): US, India, Canada, France, UK, Australia, Belgium, South Africa, Philippines, and Germany
81% of listeners listened to the podcast using a mobile application while 7% used a personal assistant and only 6% used a web browser.

Website and Social Media
Having a fully functioning website and optimized social media accounts are essential to building a brand, especially a podcast. Before we even get to the podcast syndication, we needed to create a website. Websites are multi-functional tools for businesses: they are your digital "storefront, they showcase products and services, and build your digital footprint. If you're not online, you don't exist. Websites are essential for your brand's SEO (search engine optimization).
Website
The Metaphysical Mysteries Podcast brand colors have a very dark and saturated palette, as seen in their logo.  To stay with the branding, we kept the color palette of the website in the same style. The website has a "dark mode" design style with different levels of charcoal grey and black. The accent color is a highly saturated cherry red. The darker shades go in tandem with the "Mysteries" of the universe, space, the spirit realm, and reality itself.
Social Media
Social media profiles are essential for a podcast, Not only are they tools for releasing new episodes and announcements, but they are also valuable for SEO. We built three social media accounts for The Metaphysical Mysteries: Facebook, Twitter, and YouTube. The Faceless Marketing YouTube channel, in particular, has performed well. In addition to syndication, The Metaphysical Mysteries also releases its episodes on YouTube.
Here are just a few channel statistics via YouTube:
169 views in the last 28 days
29 hours of watch time in the past 28 days
1 K impressions in the past 28 days
Syndication Platforms
The Metaphysical Mysteries podcast is currently syndicated on multiple platforms, some of which are the top podcasting platforms. Over the past year, our marketing team has gotten the podcast syndicated on the following platforms: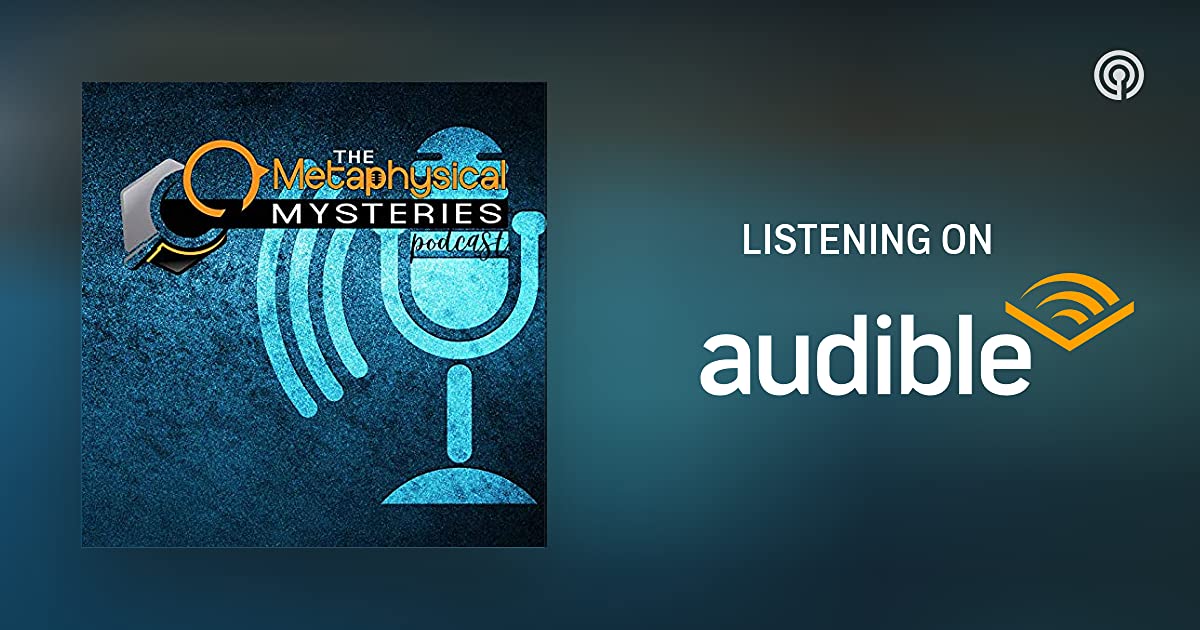 Podcast syndication is a very straightforward process. It offers podcasters a place to broadcast and publish their content. Podcasts first get published through the podcast website and then make their way to other platforms. The Metaphysical Mysteries Podcast is hosted on Blubrry – a podcasting hosting network that offers distribution to other podcast platforms.
Ecommerce Shop
Due to the rapid success of the podcast, we created a full print-on-demand eCommerce shop for their fans. Through the website's shop page, fans can browse tshirts, hoodies, tank tops, tote bags, and mugs.
Podcast Episodes and Guests
The Metaphysical Mysteries Podcasts has cultivated an impressive roster of podcast guests over the past year. These guests have brought in listeners with their own unique brand and voice. Here are just a few of the top podcast guests and their statistics:
Cyndie Lepori Animal Communicator Interview with 690 full downloads
Kim O'Neill Psychic Medium with 470 full downloads
Julien Delumeau Psychic Healer France with 422 full downloads
Case Study Conclusion
Overall The Metaphysical Mysteries Podcast startup was a success. Let's unpack why this is a "win" in our book:
Brand awareness for the company got a massive boost
Retained a listener base of reoccurring listeners from across the globe
Have full syndication on the top podcasting platforms including Apple Podcasts, Spotify, Amazon Podcasts, and Pandora
Something we stress to all our clients is that case studies should not be taken at face value. Each business has its own unique set of needs, and goals. It's very easy to see a case study's data and say "I want that too".  However, it's not easy to replicate a brand's unique growth strategy. Faceless Marketing can step in to show you the best strategy to launch your startup.
About Faceless Marketing
Faceless Marketing is a top digital marketing company that offers a full range of marketing services. We provide graphic design, printing, direct mail, social media, SEO, public relations, SEM, PPC, viral marketing, multimedia, and everything needed for your business to succeed. Reach out to Faceless Marketing for a quote or FREE consultation. Call 1-800-357-1299 or email info@faceless.marketing and Subscribe to our YouTube channel for tutorials and marketing news.