Client Case Study: Protégé Nonprofit Solutions Inc.
For 25+ years, Faceless Marketing has been growing businesses of all types – large and small. When choosing a great marketing agency, one of the best rules of thumb is to make sure that they deliver results for companies. At Faceless Marketing, we believe that results need to be measurable. Additionally, they also need to speak to larger business objectives.  At Faceless Marketing, we work with clients to grow their businesses and deliver insightful strategies and results. View our latest marketing client case study: Protégé Nonprofit Solutions Inc.
About Protégé Nonprofit Solutions Inc.
Protégé Nonprofit Solutions has assisted in launching some of the top nonprofit organizations in the world. They began as an idea symbolized by a red hot air balloon drifting up into the clouds across a clear blue sky. The journey of a nonprofit company is going where the wind takes you, while hanging on for dear life. However, despite the danger of the unknown and storms on the horizon, nothing can hold us back from risking it all in search of the adventure and fulfillment that comes with serving others. It is a fitting metaphor which is depicted in their logo, which is a red hot air balloon designed by the Faceless Marketing Graphics Team.
Meet Clayton Ferrara, Founder of Protégé Nonprofit Solutions Inc.
Protégé's founder, Clayton Ferrara is a poet, explorer, naturalist and the Executive Director of the United Nations Accredited NGO, IDEAS For Us as well as the founder of Protégé Nonprofit Solutions. Over the years, Clay has served on the boards of numerous environmental and humanitarian nonprofits, and land trusts. Through Protégé Nonprofit Solutions, he has successfully helped launch over 100+ nonprofit organizations.

Beginning Stages
For ten years, Protégé Nonprofit Solutions operated with no website, marketing, and nothing more than word of mouth recommendations through clients who were grateful to work with them. They shared their expertise in classrooms, offices and courtyards. From that point until after working with Faceless Marketing, Protégé Nonprofit Solutions has refined its process and become one of the best consultants for the nonprofit industry.
Website & Social Media
The website that we created for Protégé Nonprofit Solutions is clean, modern, and easily accessible. The color palette we chose (red and white), compliment the red and white it's logo of the hot air balloon. After not having a website or web presence for ten years, Protégé's online visibility and SEO increased exponentially. According to MonsterInsights, some of the top posts and pages on www.protegenonprofitsolutions.com are: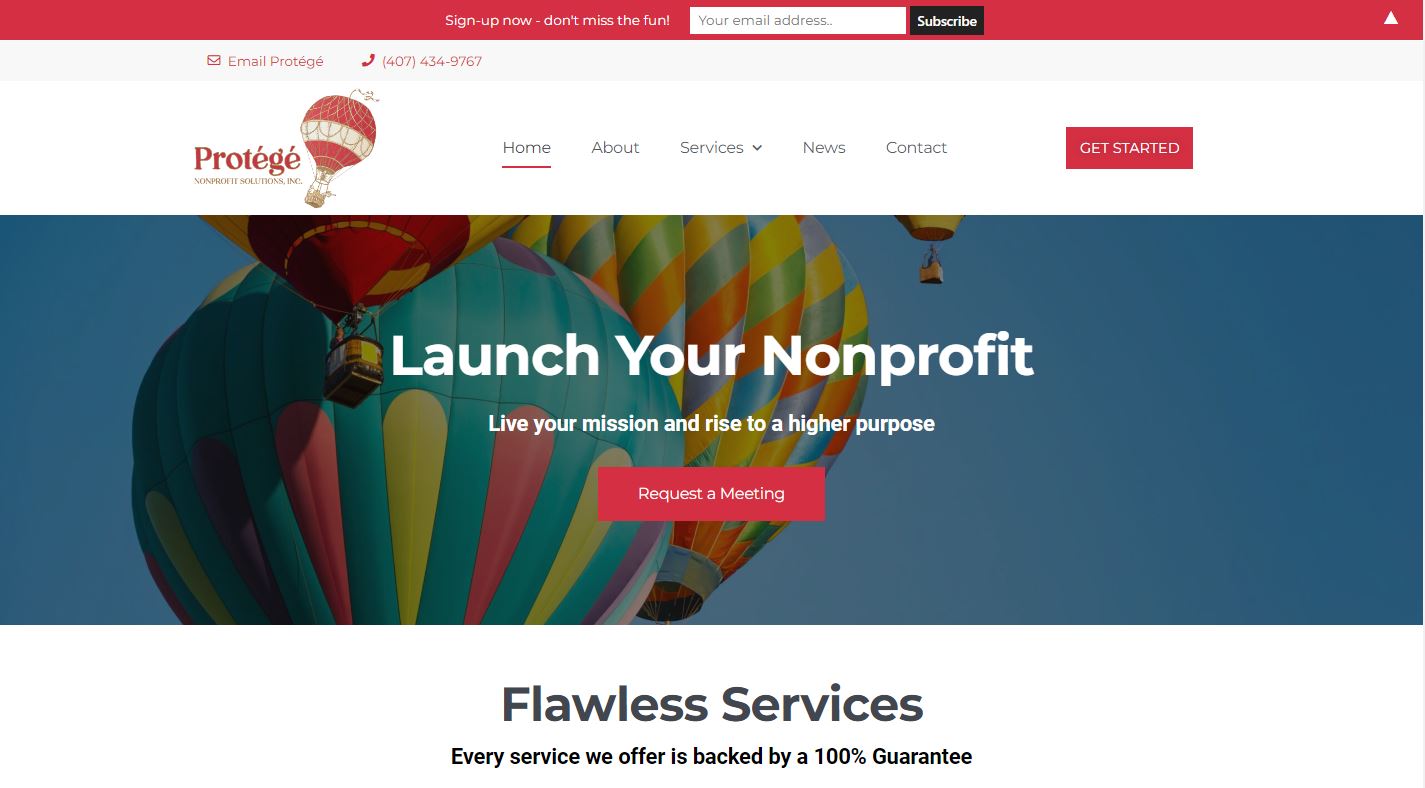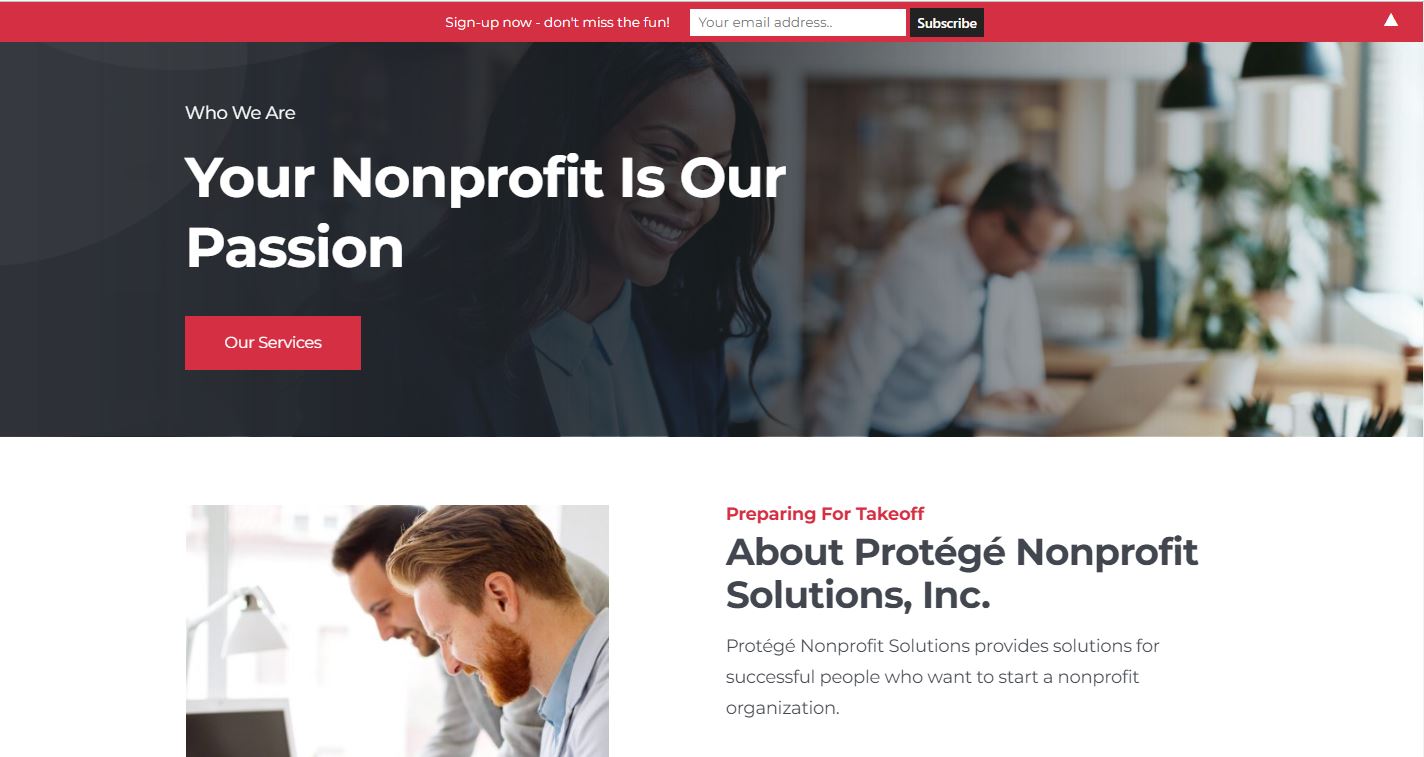 Social Media
For social media, we set Protégé Nonprofit Solutions up with a YouTube page. The YouTube page showcases several testimonial videos from Protégé's satisfied clients. Having a YouTube channel has also boosted Protégé's SEO and visibility.
Demographic and Statistics
We gathered demographic and statistics research from the Google Search Console. The Google Search Console offers tools and reports for marketers. It assists with helping measure your site's Search traffic and performance, fix issues, and make your site shine in Google Search results.
Protégé's main demographic are individuals who are looking to either start a nonprofit or grow a nonprofit. This is reflected in the types of keywords that are used in queries that lead to the Protégé Nonprofit Solutions website.
Google Search Queries
In search engines, search queries are a combination of words that get entered into search engines to find particular content or information. Here are the results for the top search queries for Protégé Nonprofit Solutions within the past 12 months:
"nonprofit solutions" – 891 Impressions
"non-profit solutions" – 163 Impressions
"non profit solutions" – 153 Impressions
"how much money to start a nonprofit" – 71 Impressions
Nonprofits That Protégé Has Helped To Launch
Since Faceless Marketing has stepped in to improve the marketing and SEO of Protégé Nonprofit Solutions, Protégé has been working with some of the top local nonprofits for Central FL. Here are just a few of the nonprofits that Protégé Nonprofit Solutions has helped launch:
Local Love Foundation Orlando
Rich Women University
Journeys To Peace
Rhythm League
Conclusion
Faceless Marketing has taken Protégé Nonprofit Solutions and elevated their brand and business. In just over a year, Faceless's team has:
Built a fully functioning website that is SEO optimized
Increase online visibility and brand awareness
Created a YouTube channel featuring curated testimonial videos from their satisfied clients
Educated their internal team on direction and use of the brands interns
Cleaned up the brands use of 3rd party solutions to tighten the outgoing expenditures
Created solid outreach verticals / evergreen funnels for proper client filtering and lead generation
Faceless Marketing stepped in to revamp Protégé's marketing, and SEO so that they can focus on what they do best: consulting and launching nonprofits.
5-Star Review From Clayton Ferrara
Protégé Founder Clayton Ferrara left a 5-star review for Faceless Marketing on our Google My Business Account:
"Faceless Marketing is incredible. They are professional and extremely talented but the primary value came from the quality of the work they provided. The most important thing in any for-profit business is the ability to sell. That's why I turned to marketers in the first place. Highly recommend them if you are serious about having a professional website that is designed to sell, Jedi mind tricks and all."
Disclaimer on Case Studies
We stress to all of our clients that case studies are not the "end all be all". The truth is, each business has its own individual set of needs and goals. Many businesses make the mistake of looking at case studies and saying "I want that too".  The caveat is, it's not easy to replicate a brands growth strategy. Although, Faceless Marketing shows businesses the best strategy to launch their startup and grow exponentially.
About Faceless Marketing
Faceless Marketing is a top digital marketing company that offers a full range of marketing services. We provide graphic design, printing, direct mail, social media, SEO, public relations, SEM, PPC, viral marketing, multimedia and everything needed for your business to succeed. Reach out to Faceless Marketing for a quote or FREE consultation. Call 1-800-357-1299 or email info@faceless.marketing and Subscribe to our YouTube channel for tutorials and marketing news.