Pamphlets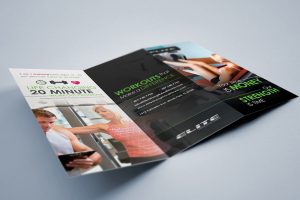 Pamphlets Can Be Used For Anything
Whether your business or organization is using a pamphlet for marketing, promotion, information or awareness, a professionally printed pamphlet will help you get your point across. Your colorful images and rich text will jump off the page when printed on our premium paper stocks with professional layout and folding.
Pamphlets are generally single sheets printed on both sides that are folded once or several times to create different amounts of panels. Popular options include half fold, tri fold, four fold (also called a leaflet) or 6 panel fold (folded in half then tri fold). If you are looking for folded sheets that are stapled along the edge, please visit our Booklets page.
Pamphlets can be printed on our premium gloss, matte or uncoated paper stocks. You will also have the choice between different weights of cover or text stock depending on if you are looking for thin, light paper or heavy, thick paper. We can also print any custom size pamphlets and fold to custom finished sizes. Alternatively, there are standard size options in the field to the right that you can select from.
Get noticed with vivid marketing materials. With a wide variety of paper stocks and finishes, we can make your printed brochures and pamphlets stand out.
Brochure example for a flower shop We print brochures, so you can showcase your products and services, with a variety of options and features:
Double-sided
Variety of sizes
Printed in full-color
Multiple Folding Options: tri-fold, z-fold, half fold, accordian fold, gate fold and more
Assortment of papers