Notepads and Pads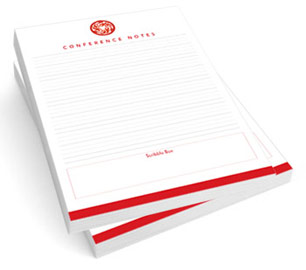 How? With the abundance of brands advertising out there, making your name memorable to a consumer is a daunting task. With personalized business notepads and memo pads, you can increase your brand visibility in a way that doesn't feel like advertising. Customize promotional printing with your brand logo and business information and you'll give your customers a useful freebie while literally being at their fingertips.
Add a personal touch to every little note. For business notes, shopping lists and more.
Business materials are great tools to establish your brand. From business cards to letterheads, you can make a uniform, professional look to create a good impression to your customers. Notepads are also great tool to contribute to your branding. Personalize them by creating a good design that includes your brand name or logo and by printing them in custom sizes.