Do You Need Help With Lead Generation?
You may be wondering, "What IS lead generation?". If you are a business owner, chances are you have already implemented strategies for increasing profits, traffic, or customers. However, you are doing "OK". Not great, but "OK". We are still knee-deep in the crisis that is the COVID-19 pandemic. With closings, restrictions, and slow traffic, businesses need to keep the flow of traffic going. That is where lead generation comes in. Every business right now could use help with lead generation in 2020.
What Are Leads and Why Are They Important For Sales?
To better understand lead generation. Let's start with what a "lead" is. In a way, it's like a detective following a lead to solve a case. A "Lead" is an individual who shows interest in a company's product or service in some way, shape, or form. Businesses get leads when a potential customer fills out an online form, gets a trail, or subscribes to a newsletter. Instead of cold calling random individuals, leads are generated after the potential customer opens a line of communication. Every business has used strategies to create leads at some point.
Leads offer data about potential customers. These include basics such as name, email, phone number, and address. The data that you collect can even be more specific such as their occupation and race or even their clothing size or what kind of car they drive. This process of collecting information is much more intuitive than a random cold call.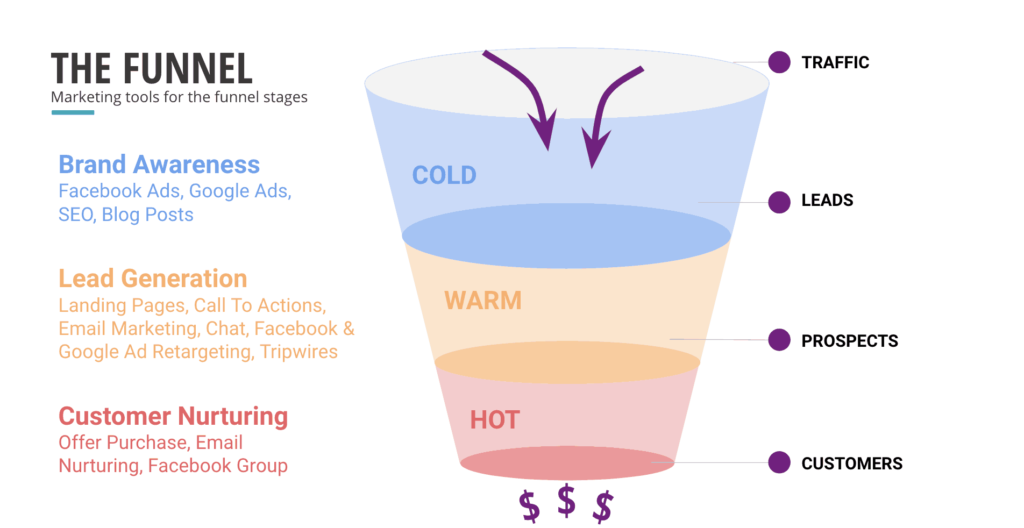 Lead generation is part of the sales funnel. You may also know it by many other names – marketing funnels, marketing pipelines, sales pipelines, or evergreen sales funnels. In a sales funnel, you are casting a wide net – through brand awareness strategies such as Facebook ads or Blog posts. Next, lead generation converts that generated traffic into leads. This is done through Email marketing strategies or landing pages. The lead nurturing involves retargeting leads and this funnels down into paying customers.
What Is Lead Generation?
Now that you understand what a lead is, you know how essential it is for the sales process. Lead generation is the strategy that is used to "capture" potential customers for the business. The end goal is to turn that lead into a sale. There are many methods of lead generation. The most common types of lead generation are contact forms, Google Ads, email lists, and social media.
Why Do You Need Lead Generation?
Businesses need a way to be heard through all the noise, now more than ever. Lead generation is essential for businesses. Your leads are an important part of sales, don't underestimate that. Additionally, Strong leads are more valuable than lukewarm leads. However, leads are more than just a number. These leads are used to build strong, continuous relationships with customers. Applying effective lead generation strategies will yield results – more traffic to your website, more customers or clients, and an increase in profits.
Approach each customer with the idea of helping him or her solve a problem or achieve a goal, not of selling a product or service. – Brian Tracy
The Best Lead Generation Strategies for 2020
While you are taking things day by day, you must be looking to the future of your business. When you are collecting leads, you'll want to implement the best lead generation strategies into your business. In 2020, there are a few lead generation strategies that are more effective than others.
Email Marketing Campaigns
Even in 2020, email marketing is STILL a lead generation powerhouse. In the Chief Marketers' 2020 B2B Marketing Outlook Survey, email was the top source of B2B leads and had the highest return on investment.
Email marketing campaigns are a crucial part of any marketing plan. A powerful email marketing campaign will expand sales.
Ways To Use Email Marketing For Lead Generation
 Run Drip Campaigns – these are a series of messages from your brand sent to subscribers at regular intervals through automation.
 Keep Tabs On Your Competition – Email marketing can be used to monitor your competition copywriting, lead generation, social media activity, and more.
Offer Incentivized Referrals – Recruit the help of your current customer base to refer one of their friends, family, or co-workers to their business. Incentives could include anything from discounts to cash.
Offer Something Free on Your Website or Social Media
Who doesn't love getting something for free? Yes, giving away something for free can actually lead to loyal, profitable customers. That's the real value in freebies. However, make sure that your freebies are something of value to potential leads. Here are a few of the most popular strategies: free estimates, free templates, or eBooks. Create forms on your website, landing page, or social media where you can generate leads. Then, virtual freebies can be sent to those who fill out forms.
Host A Webinar or Webclass
Most of the world is aiming to stay inside, social distance, and quarantine. What better way to reach out to isolated customers than the web? Hosting a webinar or web class is an effective way to get to know your customers. Web Classes are a powerful tool for lead generation and collecting data on potential customers. In 2020 there are many platforms for web conferencing – Zoom, Google Hangouts, and Skype.
What is Inbound Marketing? It's about creating content that your audience wants to see – a blog, article, or video. Create traffic that turns into leads.
Get Your Business Need Help With Lead Generation in 2020
Lead generation is the lifeblood of a business. It's like the gas that keeps your car running. Without lead generation, your business will stop running. While you are taking things day by day, you must be looking at the future of your business. You might have enough customers today, but what about tomorrow? Or 5 years ahead? If you plateauing or slowing down, it's only a matter of time until you start running into problems. If you're reading this, then you already know that it's time to take action and get help with lead generation in 2020.
Every business has been impacted by the COVID-19 crisis – yours is one of them. The time to take action is now. Try our money-back guarantee marketing plan for your business. We will save or generate the amount that you have spent with us or we'll refund the difference. If we don't deliver results, you'll receive the difference between what you paid and what we've generated. Reach out to Faceless Marketing to get started. Call 1-800-357-1299 or shoot us a Message Here.