Keychains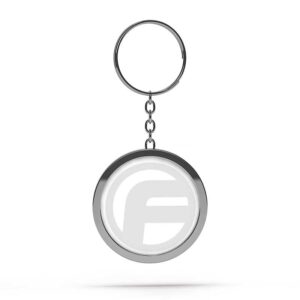 Custom Key Chains
These are essential items most people carry with them daily. This makes these accessories from Faceless an easy way to get eyes on your logo every day. Our designs are sure to be a hit at your next conference or meeting. Promotional keyrings will also work well as a nice "thank you" to customers and clientele. Browse through our collection of inventive custom key tags, because they are the most popular advertising item used to promote businesses, clubs and associations or as souvenirs.
Let Faceless help you get your company's name in as many pockets and purses as possible!
Custom keychains allow your company's logo to be seen every time your customers reach for their keys. Whenever your customers leave the house, you'll be right there with them on custom printed keychains. Promotional keychains are helpful, convenient promotional products that can be a stylish addition to any key ring. Doesn't your car key and house key deserve companions as stylish as promotional keychains?
Whether you choose specialized custom metal keychains or plastic promotional keychains, there won't be any shortage of occasions when you can give away your custom keychains. You don't even have to wait for a special event; promotional keychains are so small and easy to carry, they make great giveaways any time a customer walks into your store or office. Custom printed keychains give you the opportunity to get your brand out there everywhere your customers go! Slip a custom keychain into the bag along with the items your customers bought, or put it with the copies of the paperwork they'll bring home for their records. Realtors can especially make a name for themselves by putting their promotional keychains onto every homeowner's new set of keys. Custom keychains are a fun, instant freebie for any occasion or event!
Available in a number of designs that include flashlights, wrist straps, and even photo holders, our custom keychains are the perfect component to a personal or promotional event. A practical yet creative way to advertise your corporate giveaway, sports team or school function, personalized keychains are fun and functional items for both around the office and home. Get these customized with your design of choice for advertising gifts that will impress your clients and employees.