Floor Graphics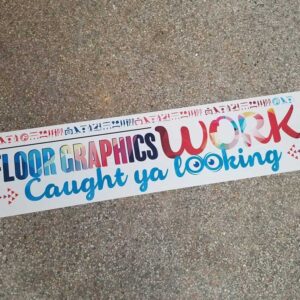 Make your retail store or business location a professional look by creating and installing custom floor graphics. These floor graphics are thick so as to be durable enough for foot traffic yet not be a nuisance to your customers. Additionally, our decals are skid proof meaning they won't cause your customers to slip or fall. These floor graphics can last up to 3-5 years with proper care and are perfect for in-store promotions and sales, directional needs, manufacturing facilities and much more.
Installation
To properly install your floor decal you need to first clean the surface upon which it will be installed. The decals are intended to be used on smooth surfaces. Sweeping and mopping or cleaning with water is recommended before installing. After the surface has completely dried then remove the backing and carefully lay the decal in the desired location. The decals are removable at first but once firmly pressed onto the surface will not be able to be re-positioned. Removal is also easy. Your decal should come cleanly off of most smooth surfaces for up to one year after application.
Care Details
Your floor decal will come with a laminate covering to increase durability. The laminate will also protect it from grime and dirt and keep it looking great no matter where you put it. Nonetheless, on occasion if it needs cleaning then a wet cloth or even a little very mild dish detergent can be used to clean the surface. Harsh or powerful cleaning chemicals and spray guns should not be used on the graphics.
of of our printing experts today!