Clothing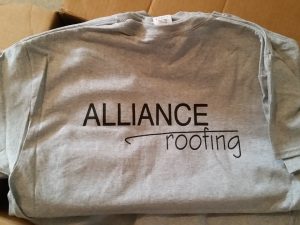 Create a look worth a second look. Design your custom clothing to make a statement that gets noticed. Direct-to-garment or screen printing available. Custom T-shirt printing is a popular, eye-catching choice for advertising businesses of all sizes. They're a unique and much appreciated giveaway and are an easy way of getting attention for your brand. Custom shirts allow you to share countless impressions of your brand while the wearers go about their day-to-day routines.
What is Digital Shirt Printing?
Direct to Garment, or DTG printing, is a process by which a digital image is printed directly onto your apparel using the newest technology in apparel printing. This process allows us to print any quantity order with highly detailed full color designs at an affordable price. With our expert team of DTG professionals any design is possible . We ensure outstanding accuracy, exceptional consistency, exceptional print output and low priced rates with every order.
Industry Leading Screen Printing Standards
We have been tirelessly perfecting our process and we take great pride in the simplicity and efficiency of our operation. There's a reason why we're an industry leader, and while much of it has to do with our high standards of work, our lightning-fast turnaround, and safe and secure shipping… it all comes down to reliability.
T-Shirts
Short Sleeve
Long Sleeve
Ringer
Pocket
V-Neck
Fashion Fit
Moisture Management
Sleeveless
Tank Tops
Tie Dye
Womens
Womens T-Shirts
Womens Tank Tops
Womens Sweatshirts
Womens Polos
Womens Button Ups
Sweatshirts
Hoodies
Crew Neck
Zip Up
Sweatpants
Womens Sweatshirts
Business and Polos
Polos Embroidered
Dress Shirts / Button Ups
Aprons
Athleticwear
Baseball Jerseys
Youth
Youth T-Shirts
Youth Sweatshirts
Youth Sweatpants
Youth Polos
Infant & Toddler
Sweatpants
Embroidered Polos
Embroidered Button Downs
Outerwear
Uniforms
Call 1-800-357-1299 for free quotes and consulting. Speak to one of of our printing experts today!