10 Reasons Why You Need To Use PPC Advertising For Your Business
Every day, you are losing money when your business isn't advertising online. Digital Marketing is a top priority for businesses in 2020. This means having a strong presence on search engines, social media, email, and mobile apps. Pay-per-click advertising (PCC) is one of the most optimal ways to advertise online. Why should you Use PPC Advertising and why is it important?
What is Pay-Per-Click Advertising?
Pay-per-click advertising (PPC) is a form of online advertising that is essentially paid search. Advertisers pay a publisher (search engine, social media or website) every time their ad is clicked on. PPC ads appear on search engines above organic content. Social media websites such as Facebook, LinkedIn, Pinterest and Twitter have also adopted their own PPC advertising models.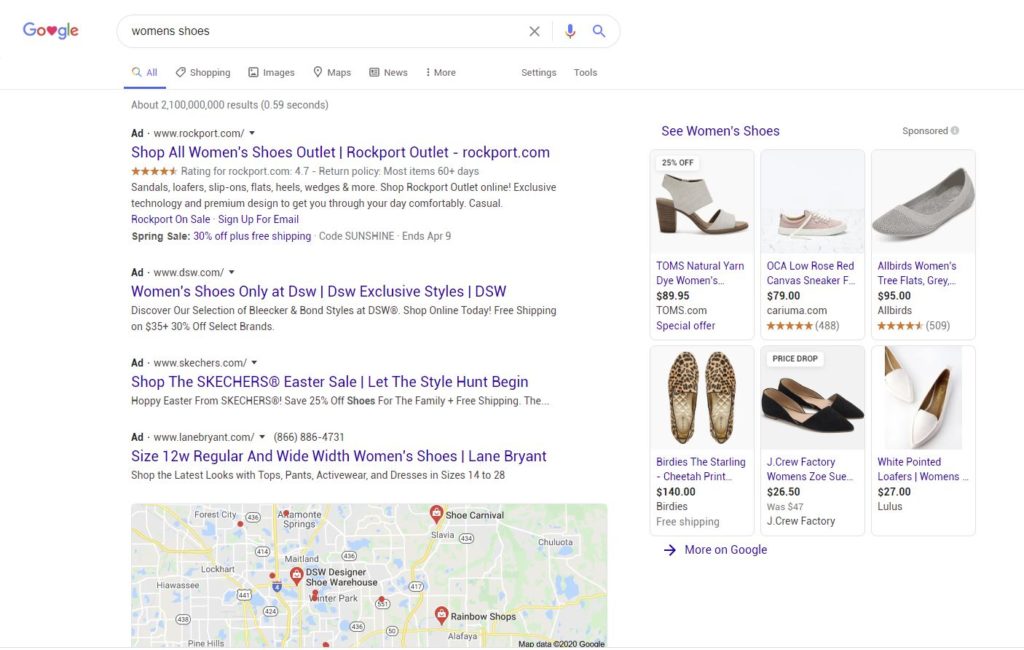 PPC vs. Organic SEO
SEO or search engine optimization is the process of improving the visibility on a website or web page in search engines. "Natural" or un-paid search results are known as "organic" SEO. Although organic SEO is free, it takes time to develop. Like a flower, an SEO campaign needs to be nurtured over a period of several weeks and months. PPC ads will always appear at the top of search result pages, and in much less time.
Why Use PPC Advertising?
There are multiple reasons why you need to be using PPC advertising and paid search. The biggest benefit to PPC is getting your company to appear at the top of search engine results. Although it's possible to improve your rank organically it's not guaranteed to be there. It is especially important on mobile, where smaller screens mean there is less space to work with. Priority real estate is given to sponsored results than organic results. These are also some strong reasons why you need to be using PPC:
1. Users are searching for your products or services on search engines
2. It is surprisingly cost-effective
3. It will increase revenue, sales, and leads
4. PPC is the fastest strategy to get targeted visitors
5. It brings in quality traffic to your website/page
6. You are able to measure and track results easily
7. PPC is not dependent on search engine algorithm changes
8. PPC works well with other marketing channels
9. You'll be able to break into new markets
10. Your competitors are using PPC right now
Let's take a closer look at our reasons as to why you should use PPC advertising.
Users are searching for your products or services on search engines
93% of activities on the internet start with a search engine. Every second, there are 40,000 searches and 3.5 billion searches a day. Right now, there are endless opportunities for your business to be found on Google, Bing, and Yahoo. PPC is going to guarantee that your company stays at the top of search results. 65% of users who are looking to make a purchase will click on sponsored ads. These statistics alone are enough reasons why you should be integrating PPC advertising.
It Is Surprisingly Cost-Effective
There is a reluctance to use PPC advertising because of the cost. In actuality, as long as you are careful with how money is managed, it can garner profit in the long run. With PPC campaigns, you can control your budget around keywords and audiences that are profitable.
It Will Increase Revenue, Sales, And Leads
Of all the benefits of PPC, this one resonates with many businesses. Every business wants to increase revenue, sales, and leads. PPC achieves this brilliantly. Pay-per-click advertising has great conversion rates. It drives exponentially more traffic to your website or webpage. This will lead to more revenue, sales, and leads.
PPC Is The Fastest Strategy To Get Targeted Visitors
When it comes to advertising, PPC is very targeted. Both PPC and organic search targets using keywords. PPC is a more advanced form of targeting. It gives you the capability to target your ads at various locations and multiple keywords at once. You can even target users by their behavior and interests. Overall, PPC gives you more control and a higher level of accuracy than organic search.
It Brings In Quality Traffic To Your Website/Page
The traffic that comes from search engines is the best kind of traffic. This is because internet users are searching for a product/service/solution/person. You can redirect this traffic toward your business. This can be done without being pushy or aggressive. You'll be getting traffic that is already interested in what your business has to offer.
You Are Able To Measure And Track Results Easily
It is very easy to measure PPC advertising. You can measure the entire process right down to your return on advertising costs. Advertisements, keywords, and ad placements can be tracked so you can see what is getting the most return. You can even implement conversion tracking to track the number of conversions you are receiving.
PPC Is Not Dependent On Search Engine Algorithm Changes
You may be familiar with the concept of algorithms in search engines and social websites. Algorithms can be very fickle. Organic listings are more affected by algorithm changes and website optimization than PPC.
PPC Works Well With Other Marketing Channels
PPC is a versatile marketing tool as it can work well with other marketing channels. For instance, you can use PPC to get more email signups and enhance your email marketing campaigns. It's fantastic for local SEO. You can use it to drive customers to your shop or call your business.
You'll Be Able To Break Into New Markets
PPC can be used as a tool to drive exposure for new products and services. You can also drive immediate traffic to your website. You have the capability to test the market and expand at your own pace.
Your Competitors Are Using PPC Right Now
Possibly, the most pressing reason why you need to be using PPC is simple. Your competitors are doing it. Right now, they are taking up space on search engine results pages. If you are not advertising on Google Search or Bing Search you are giving up your sales to the competition.
Why You Need a Specialist To Handle Your PPC Campaigns
Unfortunately, hundreds and even thousands of dollars are lost from marketing campaigns that are mismanaged. These digital marketing campaigns are mismanaged by inexperienced users who have little to no knowledge. If you go that route, you'll waste a lot of money quickly. A digital marketing expert will be able to properly analyze data and maximize the most growth out of your advertising dollars.
Marketing moves fast, but so do we. Our marketing experts have worked with many businesses – large and small to develop their customer base and number of subscribers. Reach out to Faceless Marketing for a quote or FREE consultation. Call 1-800-357-1299 or Shoot us a Message Here.